BIO Biography
Desiderius Erasmus
Desiderius Erasmus was a Dutch Renaissance humanist, theologian and teacher who became a leading figure of the early humanist movement. Counted amongst the most controversial early Renaissance figures, Erasmus all through his life worked for a middle way between Roman Catholicism and Protestantism. Born against the backdrop of the growing European religious Reformation, Erasmus was a lifelong member of the Roman Catholic Church. He had a deep-seated respect for traditional faith and grace and believed in the authority of the Pope. However, he was critical of the abuses within the Church and its clergy's weaknesses and vowed to reform the same from within. Erasmus lived life of a classical independent scholar. Using his humanist touch, he penned several editions of the New Testament in Latin and Greek, which in turn led to the Protestant Reformation and Catholic-Counter Reformation. Throughout his life, Erasmus was offered many academic positions of honor worldwide but he declined them all, preferring the uncertain but sufficient rewards of independent literary activity.
Childhood & Early Life
image: http://www.thefamouspeople.com/profiles/images/desiderius-erasmus/quotes/43792.png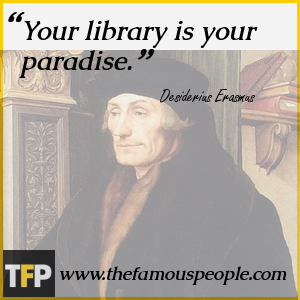 Desiderius Erasmus was born on October 27, 1466 in Rotterdam, Netherlands to Gerard, a Catholic priest and Margaretha Rogerius. His parents were not legally married. He was christened Erasmus, meaning beloved.

 EDIT 

Young Erasmus received the highest level of education available to children then. He attended school at the age of four and by nine was enrolled in the most prestigious Latin grammar school. It was therein that his love for academics blossomed.

 EDIT 

A brilliantly talented student, Erasmus's academic career was abruptly cut short after a plague epidemic killed both his parents in 1483. Following their death, he was put under the care of his guardians who were adamant about him becoming a monk.

 EDIT 

Impoverished state of being forced him to take up a monastery life in 1492. He became a canon regular at the canonry of Stein and by the age of 25, was ordained as the Catholic priest. However, he did not actively work as a cleric.

 EDIT 

An opportunity to leave the canonry came in when Erasmus was offered the post of a secretary to the Bishop of Cambrai, Henry of Bergen which he gladly accepted. He received a temporary dispensation from his religious life on grounds of poor health and love of humanistic studies.

 EDIT 
 EDIT 
In 1516, Erasmus came up with a heavily explained edition of the New Testament through, 'Novum instrumentum omne'. The book became a major turning point for scholars and educated Europeans; its content and interpretation of scripture challenged the theological thinking that had been dominating since 13th century.

 EDIT 

In 1517, he supported the foundation of the Collegium Trilingue that was based on the study of three languages, Hebrew, Latin and Greek. The foundation was established after the model of the College of the Three Languages at the University of Alcalá.

 EDIT 

In 1519, he came up with a second edition of the New Testament which was known as 'Novum Testamentum'. The second edition was used by Martin Luther for his German translation of the Bible. The first and second edition together sold 3300 copies.

 EDIT 

The onset of Protestant Reformation in 1517 gave Erasmus a new direction. Though he was Catholic by faith, he was sympathetic to Protestant reforming instincts and their ideals.

 EDIT 

Due to his sympathetic disposition towards Protestant reforming instincts, he was accused of being a Lutheran. It was to counter these accusations that he penned a declaration of his theological position 'De Libero Arbitrio' in 1523 wherein he condemned Luther's methods.

 EDIT 
To mark his contribution, a bronze statue of Erasmus was erected in Rotterdam, Netherlands in 1622. Furthermore, the University and Gymnasium Erasmianum in Rotterdam have been named in his honor. He has been the subject of numerous paintings and portraits.
<< Επιστροφή στην λίστα