BIO Art
Egyptian Papyrus Paintings
Bring the past alive with Egyptian papyrus paintings depicting the daily life, mythology, gods and goddesses of ancient Egypt.  Each papyrus painting is hand painted, not machine stamped, the attention paid to detail is evident.  Your papyrus painting will last many lifetimes because it is genuine papyrus, not banana paper.  Read about the papyrus artist Khedr.
Gallery I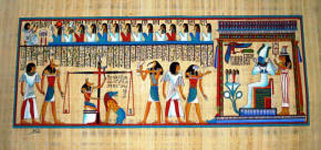 Find 7 famous papyrus painting scenes including the Egyptian Astrological Calendar, and The Final Judgment -  the most famous scene to be duplicated.
Gallery II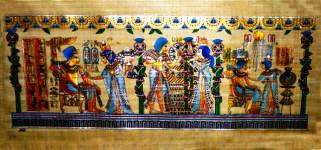 10 beautifully detailed papyrus painting scenes of the royals - coronations, journeys into the afterlife and marriage ceremonies.
Gallery III
This gallery opens with papyrus paintings of Egypt's youngest King - Find 13 famous papyrus scenes, of this remarkable discovery.
Gallery IV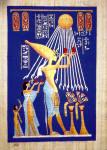 Enter into the world of Akhenaten, Ramses, Nefertiti  and Nefertari.  9 papyrus paintings bring life to Ancient Egypt.
Gallery V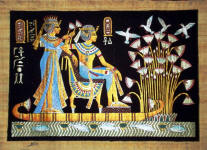 Continue your travel through the Royal Pharoahs of Egypt with more King Tut scenes, King Ramses, and Queen Nefertari.  9 papyrus paintings.
Gallery VI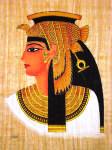 The Royalty of Ancient Egypt  continues with two of Egypt's most famous Queens, Nefertiti and Cleopatra, 6 views to choose from.
Gallery VII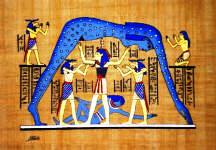 12 papyrus painting scenes of the beloved goddesses of ancient Egypt can be found - Nut the Sky Goddess, Bast the feline goddess, Ma'at, Hathor and Isis.
Gallery VIII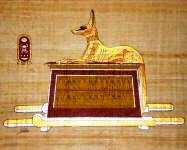 More of gods and goddesses of ancient Egyptian mythology are brought to life in this gallery.  9 papyrus painting scenes: find Anubis, The Eye of Horus, Ma'at and Sacred Scarab.
Gallery IX
Our Pharaonic papyrus creations are by Khedr, the premiere papyrus artist in Egypt.  Khedr and his family have been painting papyrus art for over 60 years.  It is simply the best available in market.  All hand painted, not machine stamped.   Khedr's hand is evident even in the empty papyrus canvas,   genuine papyrus is used, not banana paper, an important distinction...genuine papyrus will last many lifetimes. If you appreciate quality and uniqueness in art, then Khedr is your artist.

<< Επιστροφή στην λίστα